Review StableHost – Cheap price, good quality
In recent time, registration at HostGator or Dreamhost pretty inconvenient due to the complicated verification processes. Stablehost is being more wel-known and take a strong position in consumer with very quick registration process. There are more and more webmasters using StableHost services.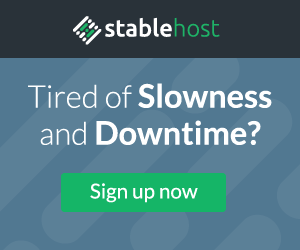 Today, I want to make this writing to review StableHost whether it is worth to use in hope of bring a true picture for you about this hosting provider before you decide to use their products formally.
This writing is based on my experience using hosting service of Stablehost for one month. 1 month is not too long, but sufficient enough to point out experimental reviews.
Strength of StableHost
Easy registration without verification requirement. The account active and sent immediately to registered email.
The accessing speed is really good from AU, even probably Hostgator is better.
Support through ticket is really quick in working time. How is about outside working hours? look at the weakness bellow 
System information good, with STABLE packages, you are not limited bandwidth, domains or Data capacity.
Shared hosting packages are provided with 1GB of RAM, limitation of  25% of 1 core CPU.
Weakness
There is no Live chat, you therefore get the assistance through email or opening ticket.  If you try con contact them for support outside the range of working hours, the emergency cases will be supported after 5 hours, whereas ordinary problems need to be waited until the working hours next day to be solved.
If your website take significant resources, you have to update to the higher level of plan.
Limited resources
Shared Hosting:
CPU: 25% of 1 CPU Core
I/O: 3Mb/s
Memory: 3GB
Max PHP Processes: 15
Total Max Processes: 30
Enterprise Hosting:
CPU: 100% of 2 CPU Cores
I/O: 5Mb/s
Memory: 5GB
Max PHP Processes: 50
Total Max Processes: 50
In Conclusion, StableHost service has been operating for a long time, known and well rating by webmasters over the world. I did use one shared hosting package, and I recommend using it to any one who want to ask for a worth hosting service here.
Currently, there is a discount promotion that reduce 50% the pice at Stablehost. If you demand a hosting package, take advantage from the coupon for 50% discount off as soon as possible when the validity is still available. 
Just want to share some experiences of using this service. If you have different ideas, leave a comment bellow to share to the community. They would be very useful information.
Subscribe to receive new coupons through email.